Historic W.A. Pettus Building in Downtown Goliad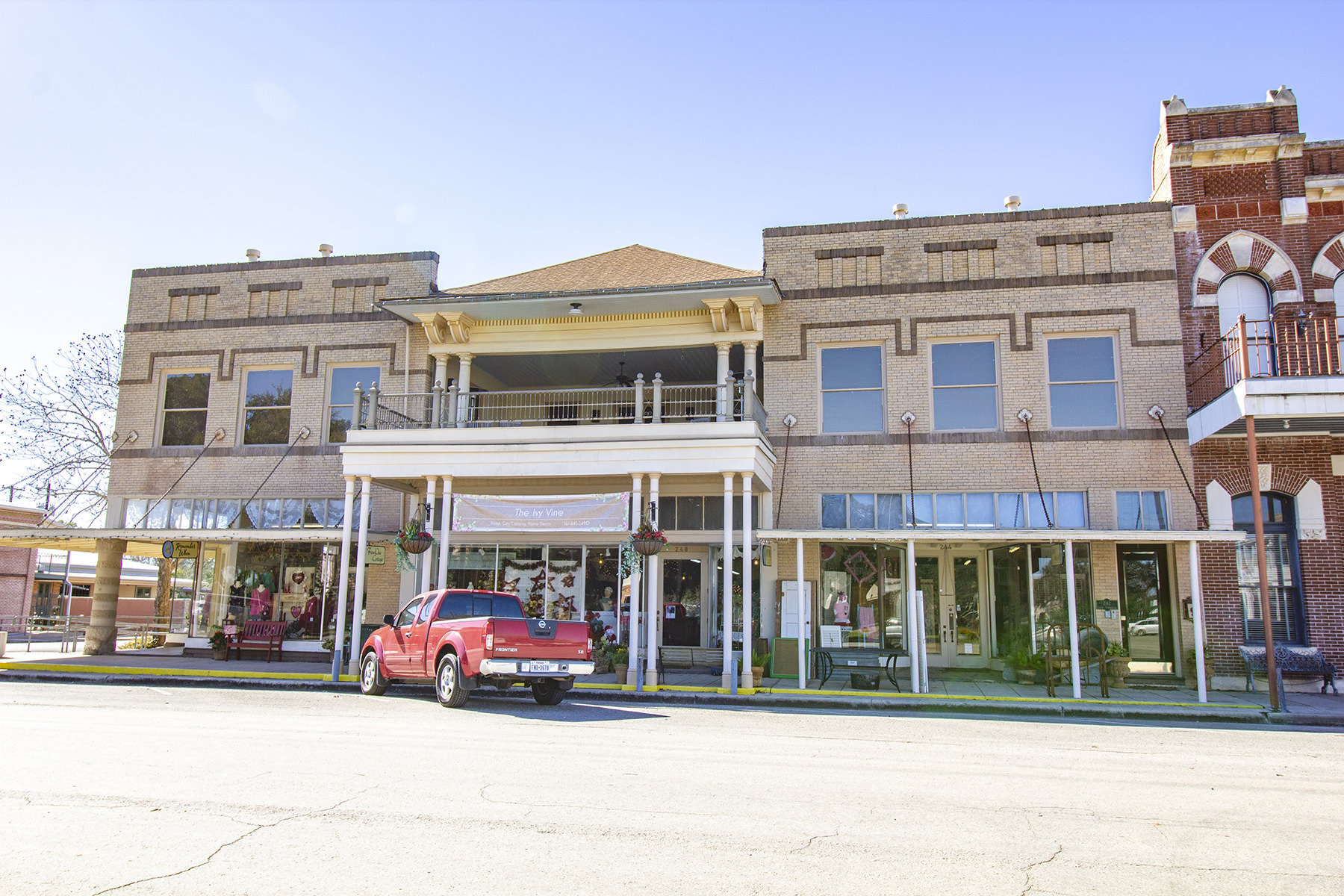 Historic Downtown Goliad Building For Sale
Built in 1912, the historic W.A. Pettus Building has a total commercial square footage of 8,324* sq. ft with an additional 6,310* sq. ft. of residential space above (*Goliad CAD). The property is located on the square in Downtown Goliad at the corner of Commercial and West End Streets and is in excellent condition. The building is comprised of two main levels and a basement. The first floor has three separate commercial spaces and the second floor is a stunning residential space.
Made for entertaining, the second floor residence features a substantial outdoor covered patio with expansive views of the courthouse and town square. French doors from the patio access a cozy living room which also has great views of the square and provides a more intimate setting for entertaining guests. Leave no one off your guest list with the grand 2,000+/- sq. ft. ballroom located on the north wing of the residence. Complete with an antique hand-operated Otis elevator, the spacious ballroom has wood floors and plenty of
natural lighting throughout.
The residence has a large master suite with attached bath that also has great views of the square and direct access to the covered patio. Aside from the master, there are an additional five bedrooms located in the southern wing of the upper floor.
Built in a U-shape to achieve maximum natural lighting into the interior spaces, the entire second floor has wood flooring throughout. A butler's pantry connects the commercial style kitchen with the spacious separate dining area. The second floor has two stair entrances. The first entrance is off Commercial Street and directly accesses the Ballroom and living spaces. The second entrance is located off West End Street and features a stair lift.
Behind the building and accessed from West End Street the building includes a 4,000+/- sq. ft. green space with mature trees as well as a detached 20 ft. x 20 ft., 2-bay brick garage.
The ground floor has three separate commercial storefronts/spaces – all currently leased. Very well-maintained, the sizeable spaces all feature charming tin ceilings and wood floors. Reclaimed mission rock line the walls of the basement, which is located under the middle commercial space and predates the structure. The basement includes two windows with light wells, a fireplace and an entrance to the above sidewalk.
Included in the Goliad Commercial National Register Historic District, this property is truly local treasure and an amazing opportunity. Call today for a private showing.
Property Details
Total Square Footage: 14,643+/- sq. ft.
Residential Square Footage: 6,310+/- sq. ft.
Commercial Square Footage: 8,324+/- sq. ft.
Price: $710,000
County: Goliad
Address: 242/244 S. Commercial St.
Historic Goliad Pettus Building For Sale
HISTORIC DOWNTOWN GOLIAD PETTUS BUILDING BROCHURE