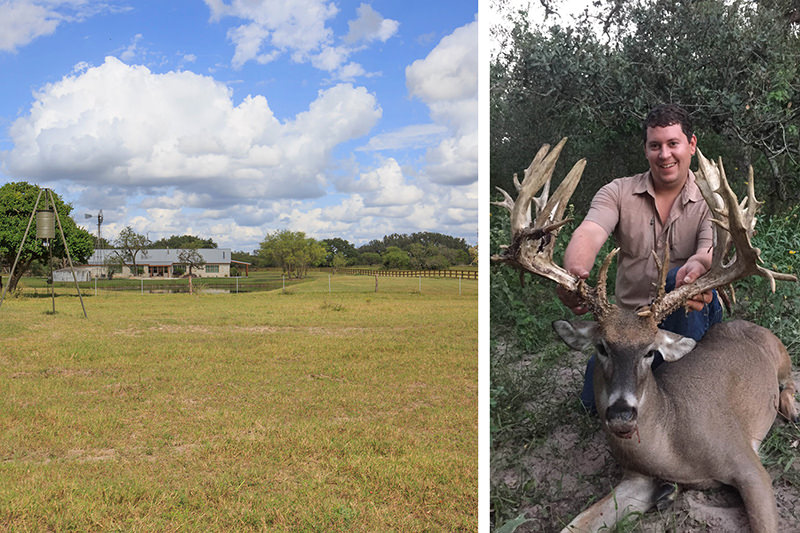 424 Acres For Sale
High Fenced Hunter's Dream Ranch – Berclair – Bee County
This 424-acre ranch is one of the most beautiful all-inclusive high fenced ranches on the market today.
With 1 mile of frontage on Medio Creek, the rolling terrain is covered with huge live oak trees and good South Texas brush providing the perfect habitat for the many high-quality deer and other game on the ranch. Approximately 80 acres along the creek is low fenced and loaded with native deer and other wildlife. The ranch is private and secluded located 1/2 mile off of HWY 59 and accessed by way of your very own private road.
The remainder of the ranch is high fenced – with 3 sides being new high fence – and includes 20 whitetail deer ranging from 150-250 B&C, 20 axis deer up to 36" and 4 gemsbok antelope. The 6 breeding pens contain 50 whitetail deer including breeder bucks, does, fawns, yearling bucks, and 2yr & 3yr old bucks. Each breeding pen has a water trough and feeder. The ranch is set up nicely to generate revenue through breeding and selling hunts.
The main house is a ranch style lodge featuring a stone exterior with metal roofing and rustic cedar log accents. Inside the 4 BR/2BA – 2,862 square foot lodge you will find fantastic furnishings, satellite televisions in each bedroom, all new flooring, an open-concept kitchen with eat-in bar, stainless appliances and a master suite complete with wood burning stove. The lodge easily sleeps 9 and is perfectly set up for entertaining with huge porches and a stone patio surrounding a pool and hot tub. A small guest house nearby sleeps 3 people and is complete with bathroom, shower, and kitchenette.
Wildlife amenities included in the sale; 5 – Atascosa luxury 5x7x10ft blinds, 5 – Double Bull bow blinds, 5 – 2,000# corn feeders, 2 – Hang 'em High crank-up corn feeders, 17 – 2,000# protein feeders, 4 – alfalfa feeders, 4.5 ton feed trailer.
Equipment includes a Case tractor, 16ft batwing shredder,
10ft brush hog shredder, disc, a Hustler 60" mower, and a Hustler 104" mower.
The ranch is located approximately 2.5 hours from Houston, 1hr 45 minutes from San Antonio and 15 minutes from Goliad or Beeville.
Property Details
Acres:  424.08+/-
Price:  $2,700,000
County:  Bee
Address:  Hwy 59
424+/- ACRE RANCH BROCHURE
[embeddoc url="https://m4ranchrealestate.com/wp-content/uploads/2016/11/BERCLAIR-424-BROCHURE2.pdf" download="all" viewer="google"]